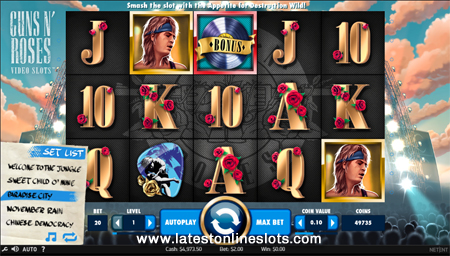 You've heard the news, right? The news that the band Guns N' Roses are reuniting and will be performing together very soon. The last time Guns N' Roses performed together was back in 1993. Since then there seemed to have been something missing in the world of rock music until now. The excitement around the band performing once again for their fans, starting April 2016 in Las Vegas, may be the reason that Net Entertainment chose to create their new slot based on Guns N' Roses. If not, that's quite alright, because whether the new slot game was created in honor of their reunion tour or just came about on its own, NetEnt came up with a rockin' new video slot either way!
The new slot machine has 5 reels and 20 paylines that contain symbols such as the band's leader Axl Rose and its lead guitarist Slash. A vinyl record acts as the bonus symbol. Assorted guitar picks, along with lower paying high card symbols create the new slot as well.
So what is so great about the new video slot? Wild symbols, stacked wild symbols and a free spins bonus round with a special multiplier feature are what's so great about the slot. Okay, so maybe that's not "so" great. Nowadays, what slot doesn't have these features? Alright, here's the one really cool feature of the new slot that fans of hard rock and roll will absolutely love. The Guns N' Roses slot game has a play list that has five of their greatest hits listed! Players can choose to rock out to any one of their choice while they spin the reels. How's that for cool?
Fans of Guns N' Roses, and slot games in general, can check out the awesome slot by NetEnt at online casinos such as Next Casino or Royal Panda. If you want to be entertained as you spin away, I can guarantee that you will be thoroughly entertained playing Guns N' Roses! Rock on!